Plumbing & Heating Needs for Homes and Businesses
Quality Plumbing & Heating in Weyburn offers several products and services to meet the plumbing and heating needs of homes and businesses.
Gas Furnaces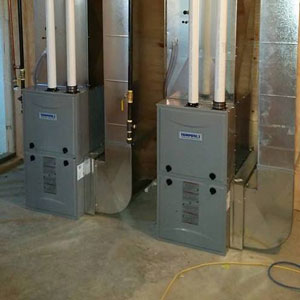 We install, maintain, and repair gas furnaces. Tempstar is our number one trusted brand. Our gas furnaces can efficiently heat homes of any size with one or two stories, and we have commercial units designed to heat large spaces of any type from office buildings to shopping centers. When we install a new or replacement furnace, we can also make adjustments to the ventilation system as needed and we will remove your old furnace parts to get them out of the way. Quality Plumbing & Heating provides yearly maintenance, including cleaning and lubricating all the parts, inspecting the hoses, switches, and pilot light, and advising you of any repairs to prepare you for winter. If your furnace is not reaching the temperature set on the thermostat, running too often, emitting a burnt odor, or not working at all, our HVAC experts can make any type of furnace repair you need. We provide free estimates and can accommodate heating emergencies in the winter as quickly as possible

.
Air Conditioning
If you need a new air conditioner, don't sweat it. Quality Plumbing & Heating has central and window units available to cool any size home, apartment, or business. Tempstar also has a variety of air conditioning products. Annual maintenance will ensure you get the most years possible out of your air conditioner. Our AC experts will inspect the unit, test it for energy efficiency, check and clean the ventilation system, refill the refrigerant as needed, and advise you of any repairs needed before the summer heat arrives. We also make any type of AC repair, including hose leaks, wire shortages, compressor or blower motor repairs, and any other minor or major repair you need.
Gas Fireplaces
Gas fireplaces provide an attractive, energy efficient alternative to heating your home only through the furnace. They are easy to maintain and don't require the extensive cleaning and firewood needed with a traditional fireplace. We have units that can be customized to fit any size space, including restaurant and hotel fireplaces, and in the wall or mantled designs. If you have an existing fireplace that needs to be cleaned or repaired, Quality Plumbing and Heating in Weyburn provides maintenance and repairs. We'll have you reading a book or enjoying family time in front of a fire again in no time.
Plumbing
We provide any type of plumbing service, including installation, maintenance, and repair for any fixture. We work with kitchen sinks, garbage disposals, dishwasher hookups, bathroom sinks, showers, bathtubs, toilets, laundry tubs, and floor drains. We also repair and install water heaters and pipes. Our team works with new construction and remodeling projects for homes and businesses, completing major overhauls or minor repairs.
Heating
Our HVAC professionals also provide any other type of heating service or installation. This includes cleaning, repairing, or renovating your ventilation system, installation or repair of in-floor heating systems, thermostat repair and replacement, and repairs for other types of furnaces such as electric and oil units.